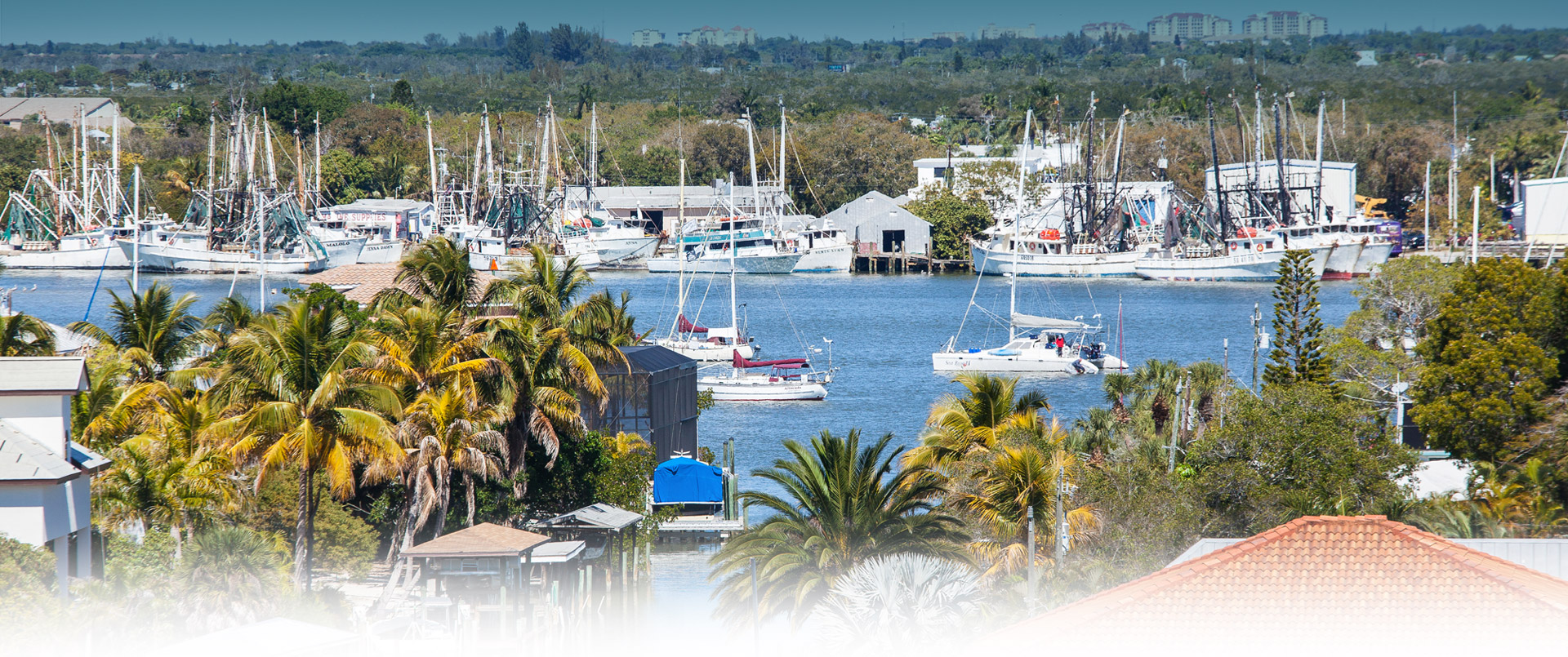 Explore The Island In Style
When you're ready to pry yourself away from the pool or take a break from the beach, there's a wide variety of entertainment both on and off Estero Island. DiamondHead Beach Resort is located near many of the area's best restaurants and bars, stylish beach boutiques, and world-class golf. Stop by Guest Services for local tips to help you make the most of your stay on Fort Myers Beach.
Day Trips
Eat & Drink
Featured Favorites
Golf
Shopping
Day Trips
Take A Walk on The Wild Side
Everglades National Park | 16.3 mi.
27180 Old 41 Rd, Bonita Springs, FL 34135
Established in 1936, the Everglades Wonder Gardens feature sprawling botanical gardens, wildlife enclosures and lush, tropical plants in a vast and silent swamp. Snap a photo with "Big Joe", a 14.5-foot-long, 1,000+ lb. crocodile, Florida panthers, and over 2,000 species of wildlife.
Plan an Outdoor Adventure
Lovers Key State Park | 7.0 mi.
8700 Estero Blvd, Fort Myers Beach, FL 33931
Home to gentle manatees, playful dolphins, and tiny marsh rabbits, Lovers Key State Park is a beautiful and isolated 712-acre preserve towards the south end of Fort Myers Beach. Accessible by boardwalk or tram, Lovers Key also offers outdoor activities like hiking, biking, paddle boarding and more.
Explore Historic Homes & Gardens
Edison & Ford Winter Estates | 14.6 mi.
2350 McGregor Blvd, Fort Myers, FL 33901
Take a guided tour through 20 acres of lush botanical gardens, historical buildings, the Edison Ford Museum, and the Edison Botanic Research Lab. Guests will love learning about the winter retreats of Thomas Edison and Henry Ford in a unique, educational, and interactive way.
See the Southernmost Point
Key West | 1.6 mi.
1200 Main St, Fort Myers Beach, FL 33931
Sailing seasonally from Fort Myers Beach, the Key West Express promises a perfect day of exploring the beaches, bars, and boutiques of Key West. Stocked with snacks, drinks, sundecks and flat-screen TVs, these high-speed, air-conditioned ferries also guarantee an exhilarating ride.
Embrace the Local Nightlife
Downtown Fort Myers | 15.4 mi.
2000 W First St, Fort Myers, FL 33901
Great for a relaxing day of shopping and dining, or a late-night partying with family and friends, Downtown Fort Myers offers exciting activities for everyone. Rotating weekly events include farmers markets, art walks, and live entertainment, and you can always find a variety of drink specials, live music, and dancing.
Eat & Drink
Tuckaway Bagel & Waffle Cafe | 0.1 mi.
2301 Estero Blvd, Fort Myers Beach, FL 33931
A cheerful and pet-friendly cafe for traditional Belgian waffles, bagel sandwiches, fresh fruit smoothies and espresso.
South Beach Grille | 4.0 mi.
7205 Estero Blvd, Fort Myers Beach, FL 33931
This upscale eatery has a diverse menu full of seafood, sushi, salads, soups, and satisfying appetizers and entrees.
Cabañas Beach Bar & Grille | on property
2000 Estero Blvd, Fort Myers Beach, FL 33931
Expect your favorite comfort food and hand-crafted cocktails at our modern open-air bar and grill by the beach.
Bayfront Bistro | 2.1 mi.
4761 Estero Blvd, Fort Myers Beach, FL 33931
This bright and airy bistro serves up creative American cuisine with an authentic Floridian twist and panoramic waterfront views.
Featured Favorites
Beach Theater | 3.4 mi.
6425 Estero Blvd, Fort Myers Beach, FL 33931
Enjoy dinner and a movie at Beach theater, a family-owned cinema dedicated to showcasing only the best new film releases.
Times Square & Fishing Pier | 0.8 mi.
830 Estero Blvd, Fort Myers Beach, FL 33931
Sidewalk shops, street performers, and bustling outdoor cafes complete this lively town center and popular fishing pier.
J.N. "Ding" Darling National Wildlife Refuge | 16.2 mi.
1 Wildlife Dr, Sanibel, FL 33957
A world-renowned sanctuary for native and migratory birds, this 5,000 acre park has one of the largest undeveloped mangrove ecosystems in the United States.
JetBlue Park at Fenway South | 16.6 mi.
11500 Fenway South Drive, Fort Myers, FL 33913
Promising an unforgettable outing at the ballpark, Boston Red Sox fans will flip for the JetBlue Park's "Fenway South," "Green Monster" and manual scoreboard.
CenturyLink Sports Complex | 11.2 mi.
14100 6 Mile Cypress Pkwy, Fort Myers, FL 33912
Lee County's CenturyLink Sports Complex is spring training home to the Minnesota Twins baseball team and their lively fans.
Golf
Verandah Golf Club | 26.1 mi.
12201 River Village Way, Fort Myers, FL 33905
Verandah Golf Club offers breathtaking panoramas, exciting challenges, natural vegetation, and distinct water features.
Tiburón Golf Club | 21.9 mi.
2620 Tiburon Dr, Naples, FL 34109
Designed by PGA Tour professional Greg Norman, this alluring 36-hole championship course boasts 800 acres of lush flora and fauna.
Old Corkscrew Golf Course | 25.1 mi.
17320 Corkscrew Rd, Estero, FL 33928
The only "stand alone" Jack Nicklaus course in Southwest Florida, Old Corkscrew features strategically placed holes, towering pine trees, and beautiful vistas.
Lely Resort Golf & Country Club | 38.2 mi.
8004 Lely Resort Blvd, Naples, FL 34113
Designed by Robert Trent Jones Sr., this award-winning course offers a complex layout with an abundance of challenging fairways and water hazards.
Dunes Golf & Tennis Club | 12.0 mi.
Dunes Golf & Tennis Club | 12.0 mi. 949 Sand Castle Rd, Sanibel, FL 33957
This unique 18-hole course, authorized by the Audubon Cooperative Society, has tropical landscaping, exotic wildlife, and is Sanibel's only aqua driving range.
Shopping
Waterside Shops | 22.0 mi.
5415 Tamiami Trail N, Naples, FL 34108
Named the "Rodeo Drive of Naples", Waterside Shops houses luxury brand boutiques and upscale eateries in a stunning retail setting.
The Village Shops on Venetian Bay | 24.0 mi.
4200 Gulf Shore Blvd N, Naples, FL 34103
Comprising 60 unique galleries, waterfront restaurants, and boutiques, The Village on Venetian Bay is considered to be some of the best shopping in Naples.
Sanibel Outlets | 5.6 mi.
20350 Summerlin Rd, Fort Myers, FL 33908
Sanibel Outlets is an open-air mall made up of brand-name designer shops with outlet prices you won't find anywhere else.
Mercato | 19.3 mi.
9118 Strada Pl, Naples, FL 34108
In addition to high-end retailers and popular restaurants and bars, Mercato isi home to a state-of-the-art movie theater and Whole Foods Market.
Bell Tower Shops | 10.9 mi.
Daniels Parkway & US 41 Fort Myers, FL 33907
Featuring a variety of upscale eateries and shops, this outdoor mall includes a movie theater and a pet-friendly "Yappy Hour" with drink specials and live music.